Our typical volunteer opportunities are listed below. For more info about these and other volunteer opportunities, please see the Book Sale page or send an email to [email protected].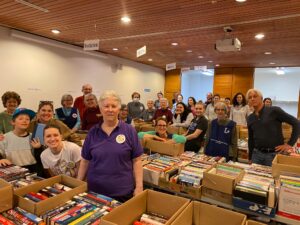 Book Sale Sorter – Thousands of books are donated every year and these volunteers take the donations, fill the ongoing book sale area and pack the rest of the books for the twice-yearly big book sales. Hours are flexible – great volunteer job for families!
Book Sale Volunteer – Help with our Spring and Fall Book Sales and get first look at the books for sale! It's a great opportunity for middle to senior high schoolers and for adults. Check out the Book Sale page for more information about the next book sale. Volunteers are needed to make each book sale a success! Please check back in March 2024 to volunteer for the April sale.
Book Sale Planning – Love the Friends book sales? Would you like to help make them happen? You can be a part of the committee that runs these great fundraisers and know that you've helped raise thousands of dollars for the library.
Board of Directors Member – The Friends of the Wescott Library board members meet bi-monthly September through May and allocate money to the library, help to create programming for the community and more! The meetings are informal and have a direct impact on the library.