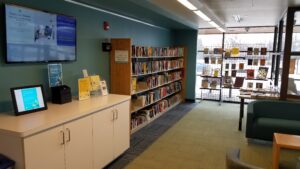 Book sales are held twice a year, in April and October. In addition, there is an ongoing book sale adjacent to the entrance of the Wescott Library (see photo at right).
We accept donations for the book sales on an ongoing basis. Please see the Donations tab for more information.
The next FWL Book Sale is planned for October 11 – 15, 2023.
Wednesday (October 11), 5:00 – 7:30, Friends members-only preview night
Thursday (October 12), 9:00 -7:30
Friday & Saturday (October 13-14), 9:00 -4:30
Sunday bag sale (October 15), 1:00 -3:00
Please note that we accept cash and checks only.
Volunteers are needed to make each book sale a success! Please use this form to volunteer for the October sale.